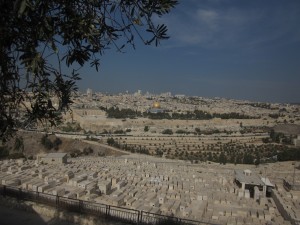 Many of our tours introduced us to the State of Israel today.  On September 16, for example, Jared Goldfarb showed us the "Jerusalem Horizons."   During this tour, he brought us to the John F. Kennedy Memorial, from which we could look over the Judean Hill Country toward the the Mediterranean.  Then we drove past the Knesset and the Supreme Court on our way to Hebrew University, from which we could look down on the Old City of Jerusalem.
On October 1 Tamar Avraham gave us a tour of Yad Vashem, Israel's monument to the Holocaust.  The monument recognizes the gentiles who saved Jews during the Nazi times.  After the tour we climbed to Mount Herzl.  It is named for Theodor Herzl, the Hungarian founder of modern political Zionism.  Yitzhak Rabin (who signed the Oslo Accords before his assassination in 1995) and Golda Meir are also buried at the top of Mount Herzl. The tour showed us the strong link between the holocaust and the foundation of the modern State of Israel.
On October 6 we heard a presentation by Miko Peled, the author of "The General's Son: Journey of an Israeli in Palestine."  Peled explained that the founding story of Israel — the story of a heroic battle in 1948 against Palestinians who had obstinately rejected the Balfour Declaration and the European plan for a Jewish State — conceals a fundamental reality.  It is the reality that Israel completed in 1967 the occupation of Palestine that it had begun nineteen years earlier.
November 5 was the date of Robert Smith's lecture on American Political Zionism within Protestant Christianity. Smith argued that some American Protestants, inspired by a tradition going back to the Puritan era, regard political action on behalf of the State of Israel as part of a two-fold strategy to defeat Islam and Roman Catholicism.  According to this point of view, Islam will be defeated by Israel, and Catholicism will be vanquished by Protestantism.
On November 18 we drove to the desert west of the dead sea to visit Qumran and Masada.  On the 19th we traveled to the Negev Desert to overnight in Kibbutz Mashabei Sadeh, to hike to an overlook over the "Great Makhtesh" or erosion landscape, to have lunch in the bedouin community of Khašim Zannih, and to visit the archaeological site of Beer-Sheva, where the biblical Abraham bought a well to establish good relations with his neighbors.  It was just a single overnight, but we saw a lot in two short days. One of our last trips, on November 25, was to the Shepheleh region, a lowland in south-central Israel, where we visited Tel Lakhish, the caves of Maresha, and Beit Jamal.